A fact that many parents, caregivers, and teachers face is that sometimes kids are very good at telling lies. Why do children lie? Is it just a phase or something more? Are we all naturally born liars, or is it in how we raise them? This article will delve into child psychology related to lying—why it is common in early childhood and how it evolves as children grow. We'll also explore what makes them untruthful and offer some practical solutions for dealing with it.
The Nature of Lying in Children
Why do children lie? The key to understanding lying in child psychology is developing fine-tuned interpreting skills. No lie is what it seems to be. Picture a 3-year-old with piggy tails talking her very strict father into giving her ice cream for breakfast: 'But I promise I'll eat all my vegetables for the rest of the week – blink, blink – huge eyes softening dad up.
At first, it's cute. It's innocent. We allow some rules to slip to make them happy. Some of their lies seem to come from a fantasy world we left behind as grown-ups. But what do we do when kids get older, and those little lies bring big problems, breaking trust in the family?
This shift from adorable tales to serious trust issues is a challenge that many parents, caregivers, and teachers face. "No more lies" is not a button on a remote control, making everything stop. The task is more complex. It's about understanding why the lying started and finding ways to teach honesty and build trust again. It's about helping them realize that honesty isn't just a rule; it's a value that strengthens families and relationships.
Developmental Milestones and Lying: Why Do Children Lie Based on Their Age?
Around 2-3 Years: Very young children have a vivid imagination. They might make up stories about talking toys or pretend pets. They're not really lying on purpose; they're just playing and using their imagination.
Around 4-6 Years: At this stage, begin to understand what lie-telling really is. They learn they can say things that aren't true to dodge punishments or to get rewards. For example, they might claim they've cleaned their room when they haven't to avoid a time-out or to get the treat promised at the end of the chore. Their social skills are also evolving, and they start to grasp that their words can affect how others see them. Under these conditions, dishonesty turns into an attention-seeking behavior.
Around 7-8 Years: Kids start to grasp the moral aspect of truth and lies. They learn that honesty is valued in society, and when they lie, they're also most likely aware of the consequences. For instance, they might feel guilty for cheating in a game, understanding that it's unfair to others.
9-12 Years: Older children can craft more complex lies as their cognitive abilities continue to grow. They might lie to test rules, fit in with their friends, or keep some things private. Teaching your child about the long-term impacts of dishonesty is essential at this age. Make it clear that while they might get a temporary gain from a lie, it can lead to lost trust and potential harm in the long run.
Teenage years: Are you wondering why do children lie during adolescence? Teens often go through a phase where they want to discover their own identity. Their craving for more independence might lead them to occasionally bend the truth. For instance, a teenager might not be completely honest about after-school activities, like choosing to spend time with friends rather than attending a study group. This isn't always because they don't care about honesty or rules. Instead, it's often a part of their journey to self-discovery.
Types of Lies Children Tell
Children might use false statements, white lies, or fibs to avoid negative consequences or to make their stories more interesting. Exaggerations, denials, or fictional stories surface from time to time.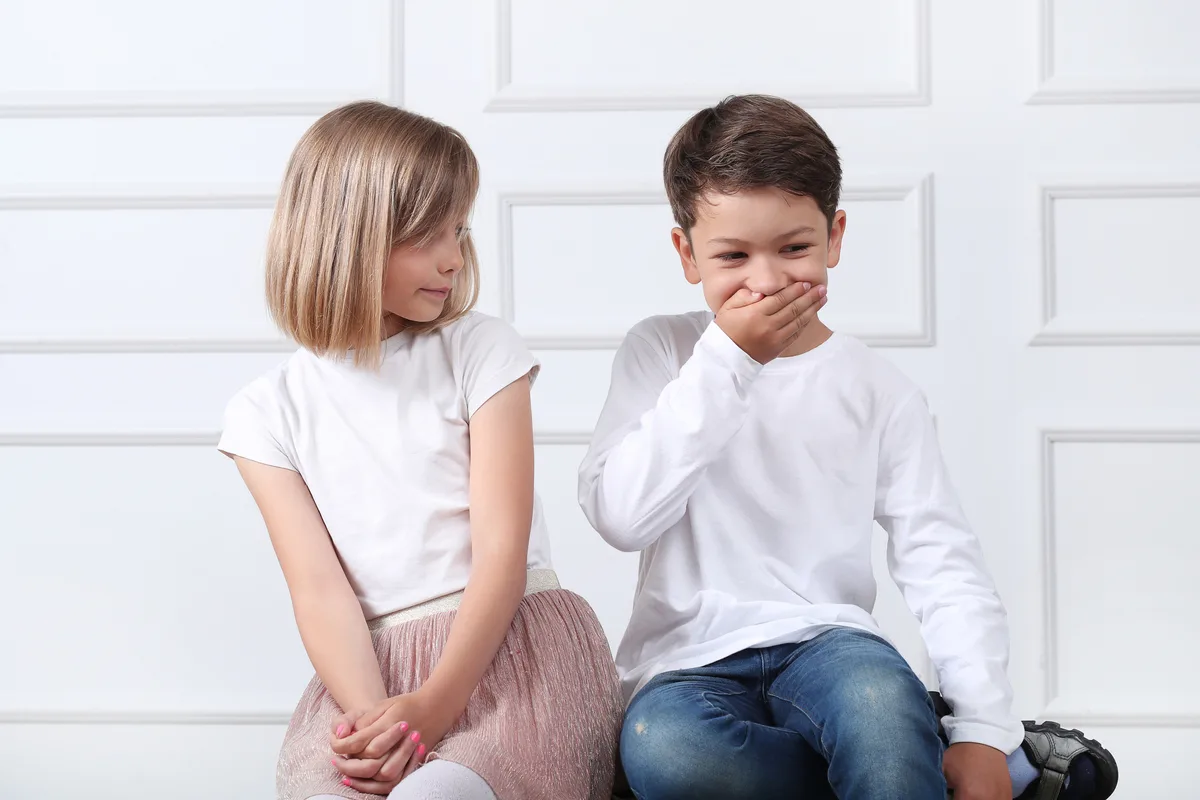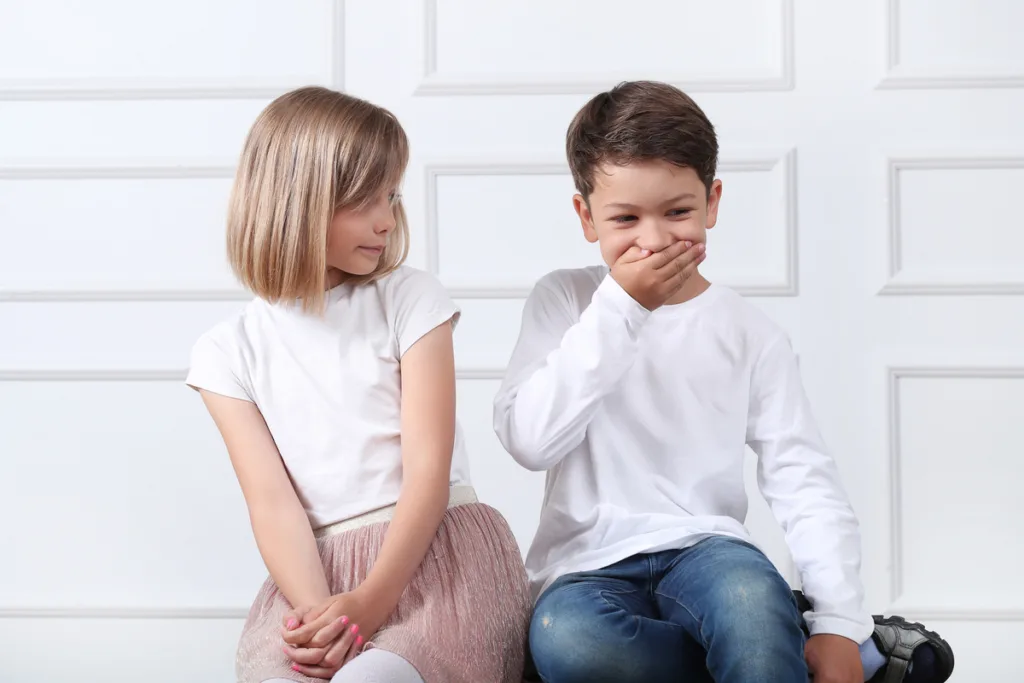 Credit: Freepik
Their wild imaginations can be something else! Whether they're claiming a superhero-like leap over the moon, pleading innocence about a mysteriously broken vase, or complimenting your latest culinary disaster, their relationship with the truth can be pretty creative.
Sarcasm is another spice that finds its way into their repertoire, especially as they get older. They might use it to serve a side of humor, make a joke out of something serious, or maybe even hide how they truly feel.
We can laugh at their clever remarks or be upset when they're trying to trick us. What's most important is to teach them that sincerity and truthfulness will take them further in the long run.
Lying child psychology – Why do children lie?
Why do children lie? This age-old parenting question can have a complex answer. The reasons often vary based on a child's age and understanding of truth-telling.
Younger children might lie out of sheer imagination, where the line between fantasy and reality is still a bit blurry. Older kids might be trying to dodge trouble or fit in with their friends. Read below about the lying child psychology & discover most common reasons children hide or bend the truth.
1. Fear of Punishment and Avoiding Consequences
Have you ever heard kids say things like, "It wasn't me," "The dog ate my homework," or "I have an upset stomach and can't go to school"? Classics for school-age children. Many of us have used these same excuses when we were kids.
When kids fear punishment, they're more likely to lie to avoid getting into trouble. They might not even understand why their actions were wrong because they're too focused on not getting caught. This doesn't help kids learn or grow – instead, it teaches them that lying is the best way to avoid getting punished.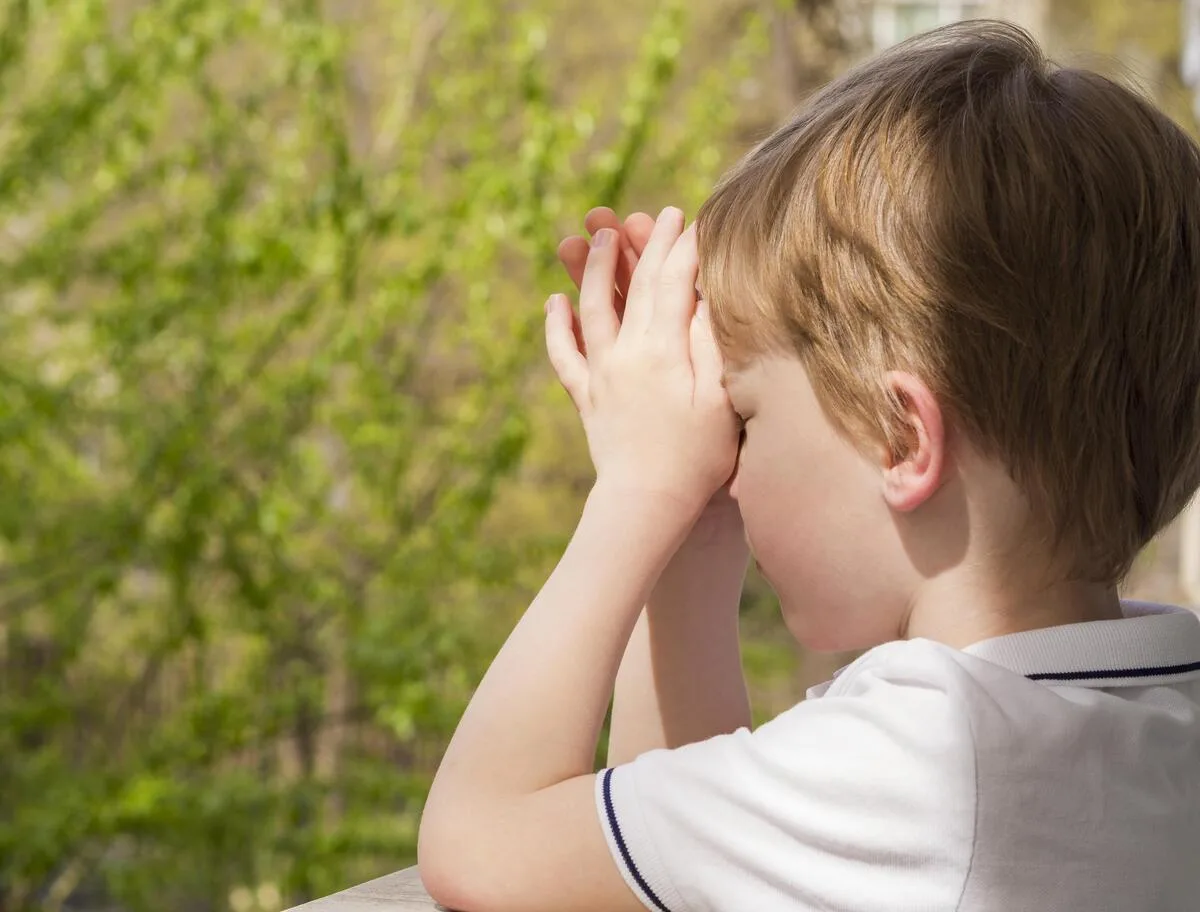 Credit: Freepik
Letting a little lie go every now and then might not seem like a big deal, but it can have bigger impacts than you might think. When kids lie to get out of trouble, they aren't learning how to deal with problems in a healthy way. They also might start to feel anxious and guilty for not telling the truth. That's why it's so important to teach kids to be honest. When kids tell the truth, it teaches them how to deal with problems head-on.
2. Gaining Approval and Acceptance
Children often utter exaggerated statements or little white lies like, "My dad drives a convertible," or "I once built a 7-foot Lego tower". Whether they're bragging or wishful thinking, the intent behind these statements is typically the same: to gain approval or admiration from their peers.
But there's a downside. If young kids keep making up bigger and better stories to get attention, it can become a hard habit to break. Kids may get accustomed to drawing attention to themselves in this manner, constantly feeling the need to devise bigger and more impressive tales. This can become mentally exhausting for the child and create a blurred line between their authentic selves and the image they project, leading to confusion about their identity. Moreover, peers and even adults might start doubting the child's credibility over time, negatively impacting their relationships.
Children should learn that they don't need to embellish or invent achievements to be appreciated. Instead, showcasing their genuine selves, displaying resilience in the face of adversity, and demonstrating vulnerability can be incredibly admirable. These qualities get them genuine respect and admiration from others and contribute to a healthy sense of self-worth.
3. Fantasy and Imagination
Here's another explanation for the question "Why do children lie" – kids' imagination is genuinely remarkable. They can dream up the most exciting stories and fantastic creatures. When a 3-year-old tells you about their dragon friend hiding under their bed or the fairy they chatted with in the backyard, it's a sign of a super active imagination. Some research even suggests that kids who have imaginary friends are usually better at making up and telling original stories. This shows a big connection between imagination, creativity, and superior communication skills.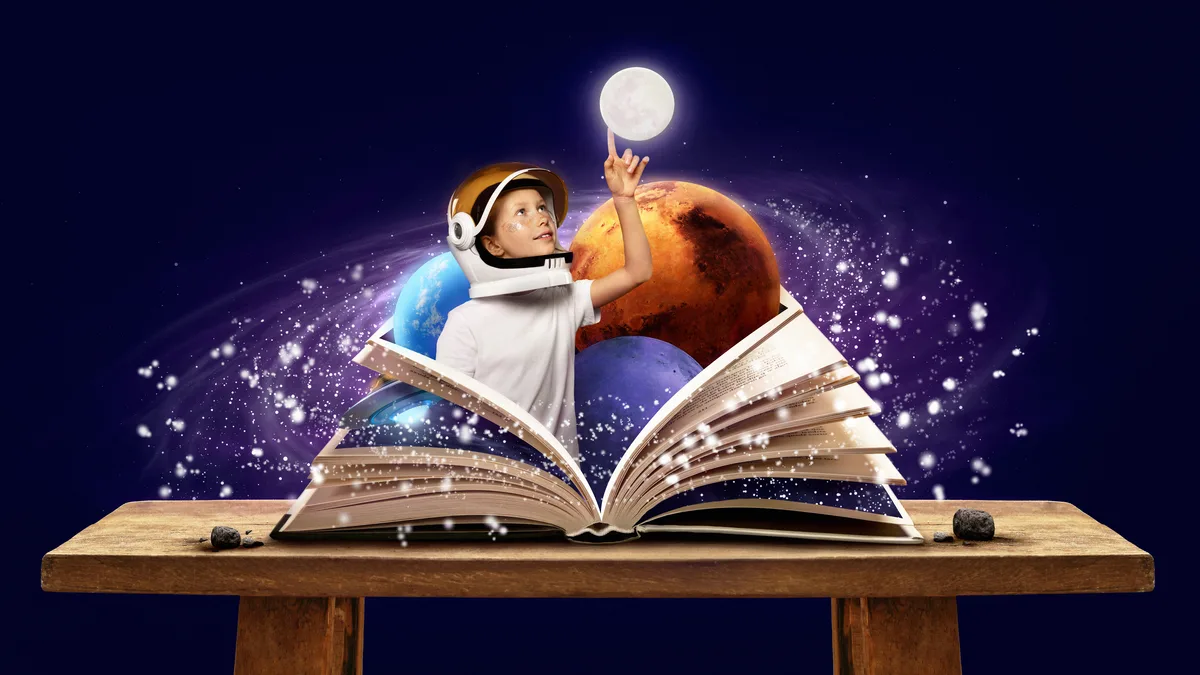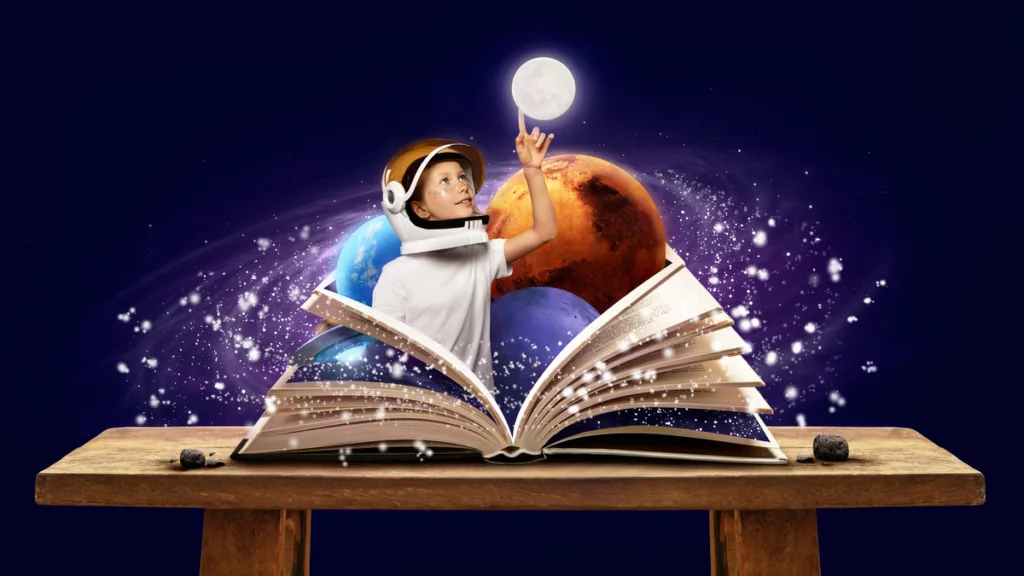 Credit: Freepik
It becomes problematic when kids start inventing tell tales or blaming their imaginary friends for things they did wrong. This might be cute at first, but if it keeps happening, it can turn into a bad habit. While we should definitely support their creativity and imagination, we must also teach kids to be honest and responsible. Making mistakes is normal. What's important is learning to admit them and avoid repeating them in the future.
4. Attention-Seeking
"The Boy Who Cried Wolf" is a classic story that teaches children about the dangers of lying for attention. Research says that by 4 years old, almost all children lie. Mainly to avoid trouble but also to connect with others. Now, lying to get attention can have its downsides.
First, child lies are often easy to spot. Teachers, parents, or other caregivers may begin to question the validity of everything the child says, even when the child is telling the truth. Repeated lying can chip away trust, leading to strained relationships. Once trust is broken, it's hard to rebuild.
Second, lying can cause problems within the person who tells the lies. The stress of keeping up with a made-up story and the fear of getting caught can lead to anxiety and guilt. This emotional stress can harm the child's self-esteem and overall mental health.
👉 Curious about what causes attention-seeking behavior in children? Uncover the top 5 effective strategies in our article. Click here to dive into the insights and gain a deeper understanding!
How to Handle Children's Lying – Effective Solutions
Besides addressing the question of 'Why do children lie,' it's important to explore effective solutions for this issue. If we're reaching for long-term effects, we should focus on positive parenting strategies, not quick fixes like punishments or time-outs. Creating an environment where honesty thrives should start early. Parents modeling truthful behavior plays a crucial role, showing children through example the importance and value of honesty. When children witness the adults in their lives practicing what they preach, the message resonates more profoundly. Then, it's about open communication and thoughtful praise when children own up to their mistakes and are ready to learn from them and improve.
1. Model Honest Behavior
Children often copy their parents' behavior. When parents consistently display honesty in their words and actions, children are more likely to do the same. This includes always telling the truth, even when it might be difficult.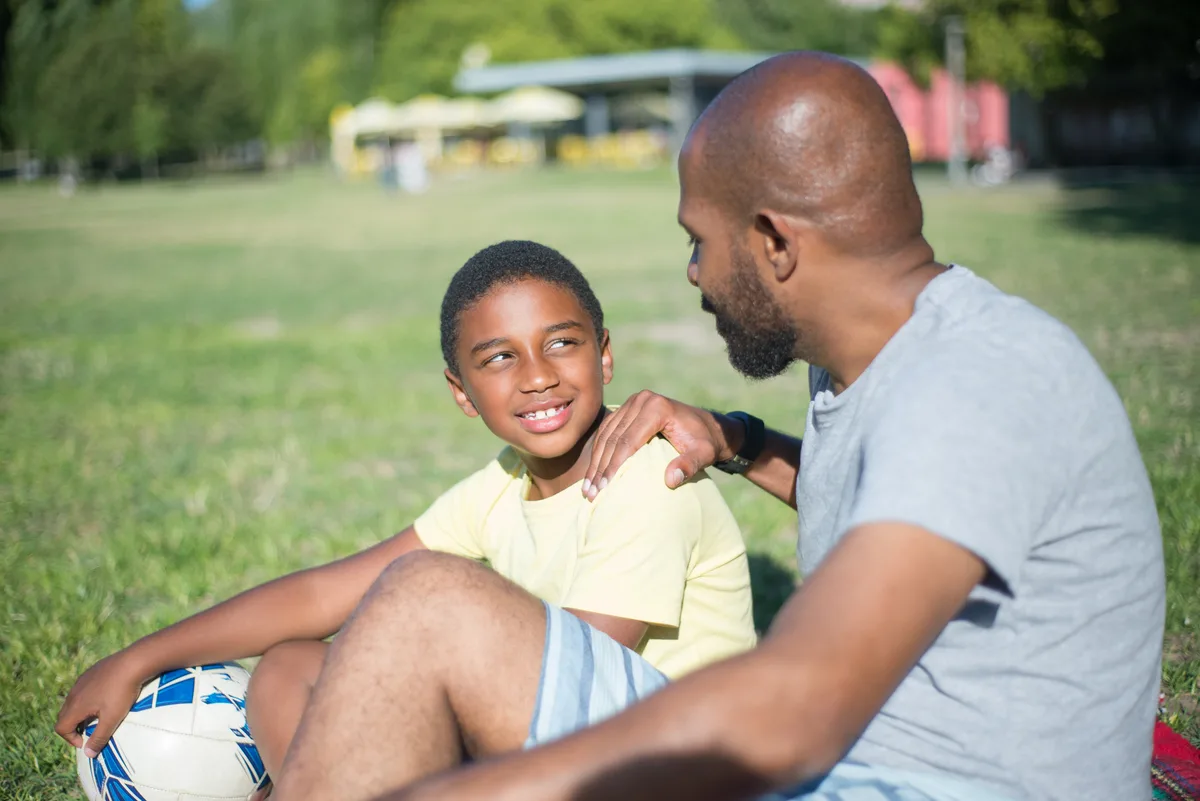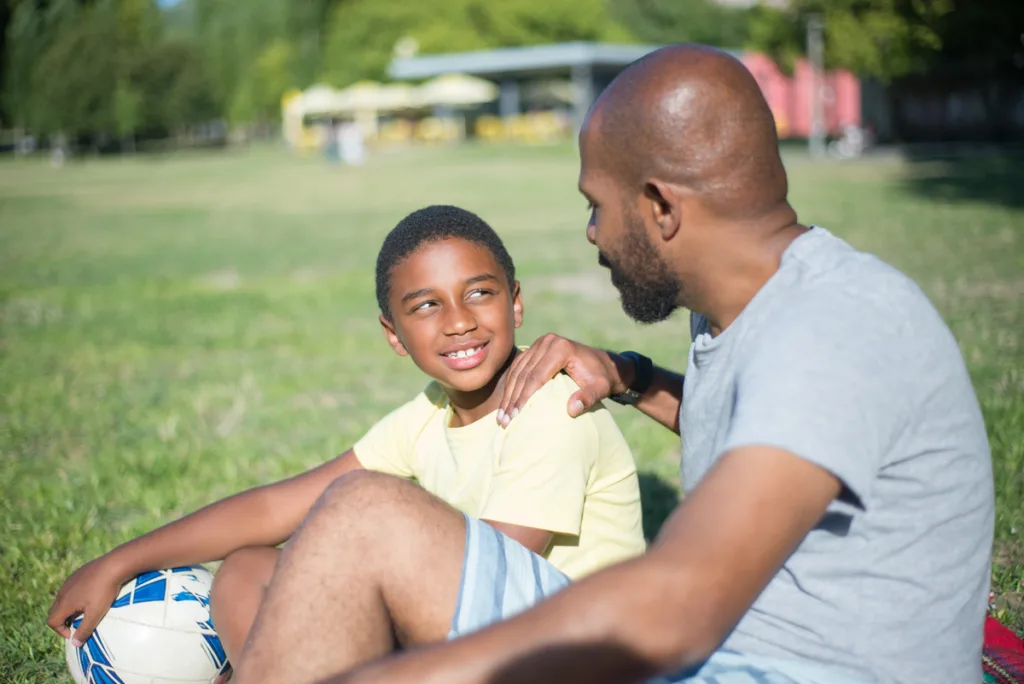 Credit: Freepik
If you think about it, most parents tell their kids that lying is wrong; they often stress the importance of honesty. But, sometimes, parents might tell little white lies to their children to change their behavior or emotions. This is known in the scientific world as "parenting by lying." Parents might lie about all sorts of things. Food – 'If you eat carrots, you'll have X-ray vision,' money – 'We don't have money to buy that ugly toy,' or what will happen if kids misbehave. Sometimes, parents even make false threats about leaving their child alone in a public place.
The problem with "parenting by lying" is the mixed message it sends. It might make children think it's okay to lie if it helps them get what they want. Even if children don't realize these are lies when they first hear them, they might figure it out later. This could make them integrate the belief that they can't always trust their parents. It can also cause problems that continue into adulthood, enhancing the potential for developing a habit of dishonesty, manipulation, and mistrust in relationships.
2. Communicate Consequences
Parents often feel frustrated when they see their kids turning into deceitful masters. They might swing between different approaches in an attempt to curb the behavior – from punishing one moment, to using gentle language and active listening the next. When parents are inconsistent with consequences or fluctuate between extremes, children may struggle to understand what is expected of them. This can also undermine a child's sense of security, as they may not know how their parents will react to their behavior.
There should be some age-appropriate consequences for lying. Consequences for dishonesty, like any behavior, should be simple and fair. Children need to understand and remember them as part of the natural order of events. A consistent, calm approach coupled with natural and logical consequences provides children with clear expectations and a safe environment. It discourages dishonesty and encourages children to take responsibility for their actions.
For instance, if a child lies about completing their homework, one natural consequence could be a lower grade or a reprimand from the teacher. One of the logical age-appropriate consequences for lying set by the parents could be losing some free time to complete the work they initially lied about.
3. Encourage Open Communication
Parents should try to understand why their kid is lying. There's usually a reason behind it. When a child lies frequently, it often suggests underlying unmet needs or fears. Children might not have the emotional maturity or the right words to express their internal struggles, so they might resort to lying as a way to cope. Once parents and caregivers have identified the root cause, they can then teach children healthier ways to meet those needs or address those fears.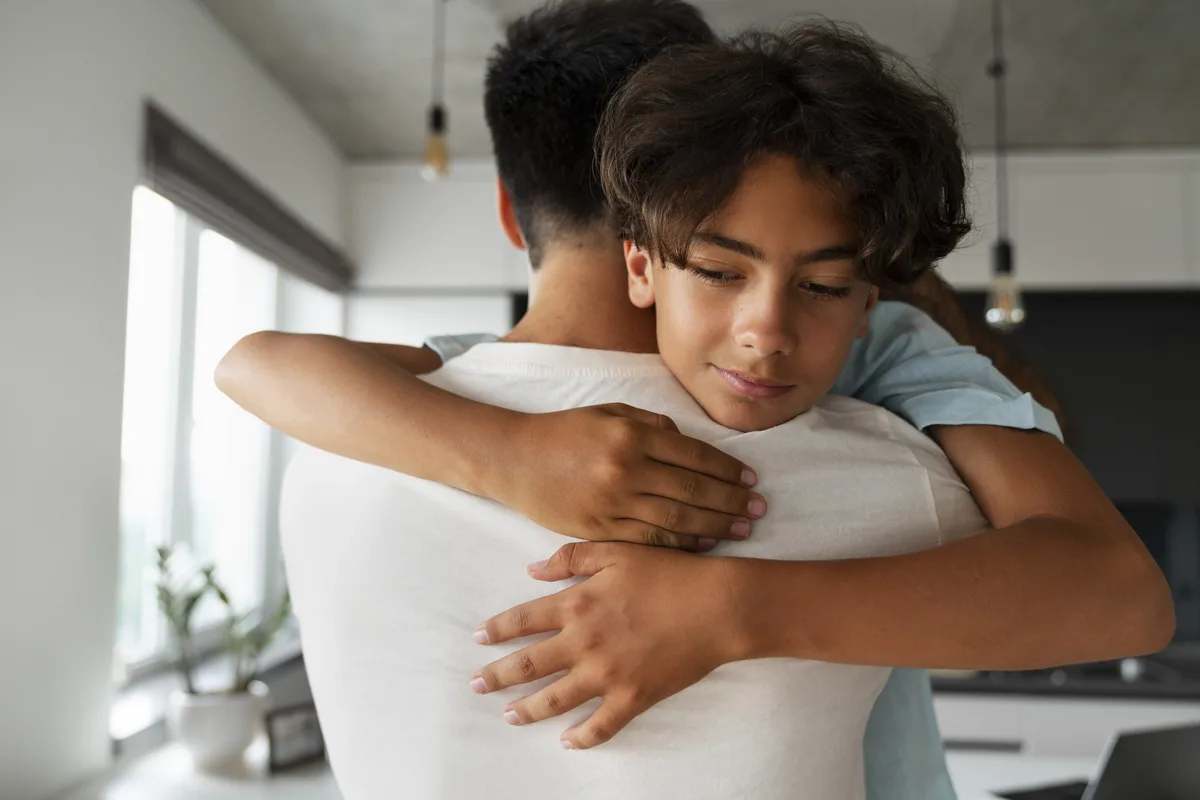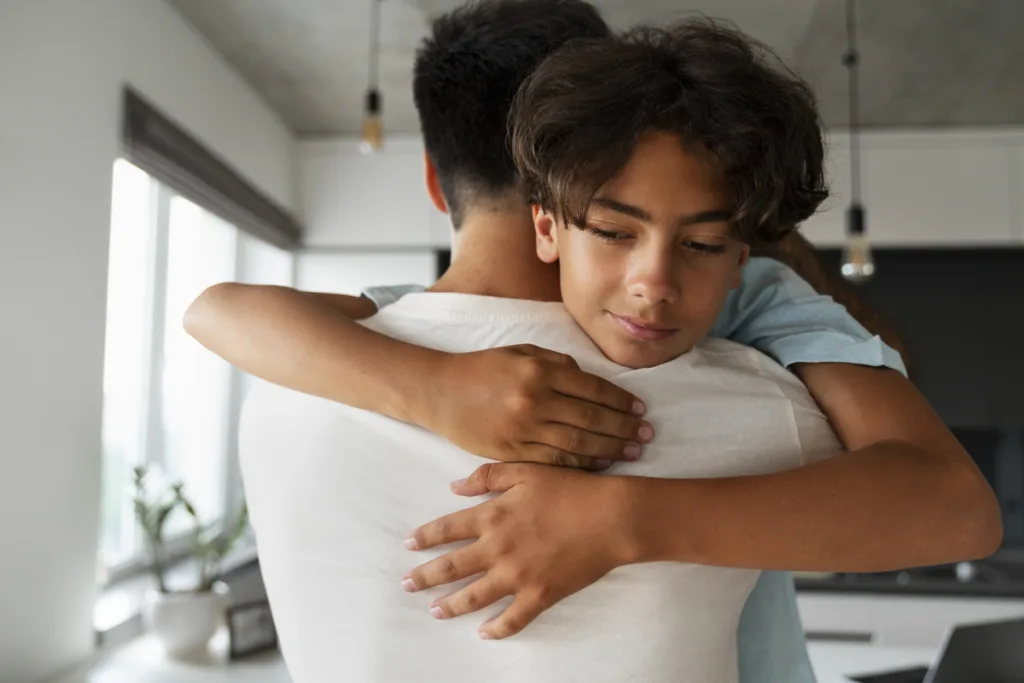 Credit: Freepik
If a child feels overlooked or underappreciated, they might lie to gain attention, even if it's negative. This could indicate that they need more positive interactions in the family or school environment.
Another fear could come from a fear of disappointment. Children often want to please their parents or teachers. If they believe they'll disappoint these figures by making mistakes or not meeting expectations, kids might lie to avoid the consequences they fear will follow.
Supportive words might sound like: 'I understand you might be worried about disappointing me or your teacher. But remember, it's okay to make mistakes. We learn from them. It's not okay, however, to lie about them. Honesty is always the best approach.'
With open communication, a child feels safe and confident to express their thoughts, feelings, and worries without fear of punishment or judgment, and they are also less likely to resort to lying.
👉 Tired of constant sibling conflicts and playing detective? Learn how to successfully manage and resolve these issues as a parent in our article. Read it and put an end to the siblings fights.
4. Reinforce Positive Behavior
We cannot stress this enough. If your child admits to wrongdoing, avoid harsh punishment. Instead, focus on the fact that they told the truth. Discuss what happened, why it was wrong, and how to make amends. Then, keep an eye out for moments when your child tells the truth, especially when it's hard for them to do so. Acknowledge their honesty and praise them for it. This will make them feel good and encourage them to repeat the behavior.
It's also about how praise is used. Instead of saying "good job," be specific about what they did well. For instance, you might say, "I appreciate how you told me the truth about what happened to the vase, even though you were scared."
Make your home a place where everyone feels safe to share impactful news and express their thoughts and feelings freely. When your child feels comfortable sharing with you, they'll be less likely to lie. Establish a routine for daily or weekly family meetings where everyone can talk about their day, express their feelings, and discuss any challenges they've faced. This can create a safe space for sharing and openness. For example, during dinner time, each family member can take a turn sharing something that happened during the day, whether good or bad.
Seeking Professional Help When Necessary
We all know lying can become pathological. Some people, children included, can become addicted to the power that influencing others can have. Chronic lying usually suggests that the person making false statements becomes immune to the repercussions. They no longer feel guilt or remorse and would rather lose a relationship than give up their habits, usually blaming the other for not "getting" them. This troubling trajectory underscores a serious and urgent issue.
Our responsibility as parents, caregivers, and educators is to prevent this from happening. Recognizing the early signs of pervasive lying is the first critical step. From the innocent fibs about finishing homework to more concerning lies that manipulate situations, the pattern needs to be identified. We must then consult specialists, like child psychologists or counselors, for guidance if the behavior persists.
Recognizing Persistent Lying Patterns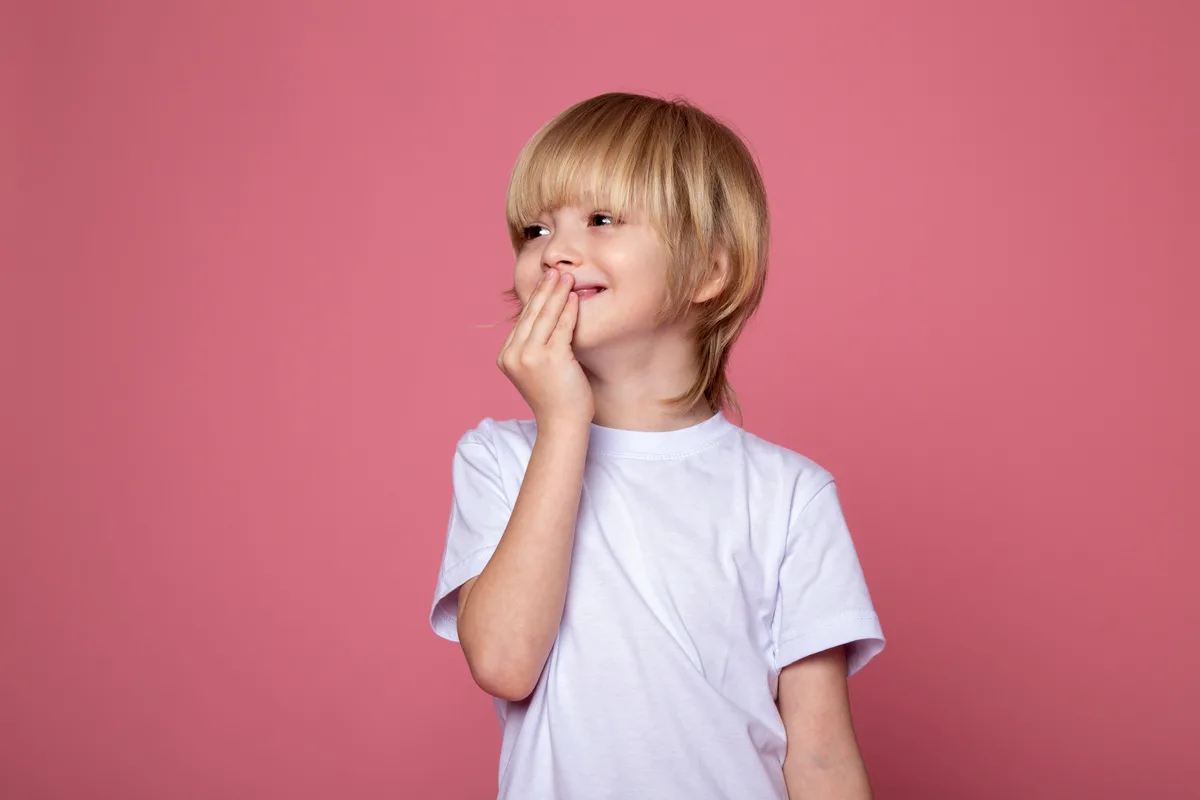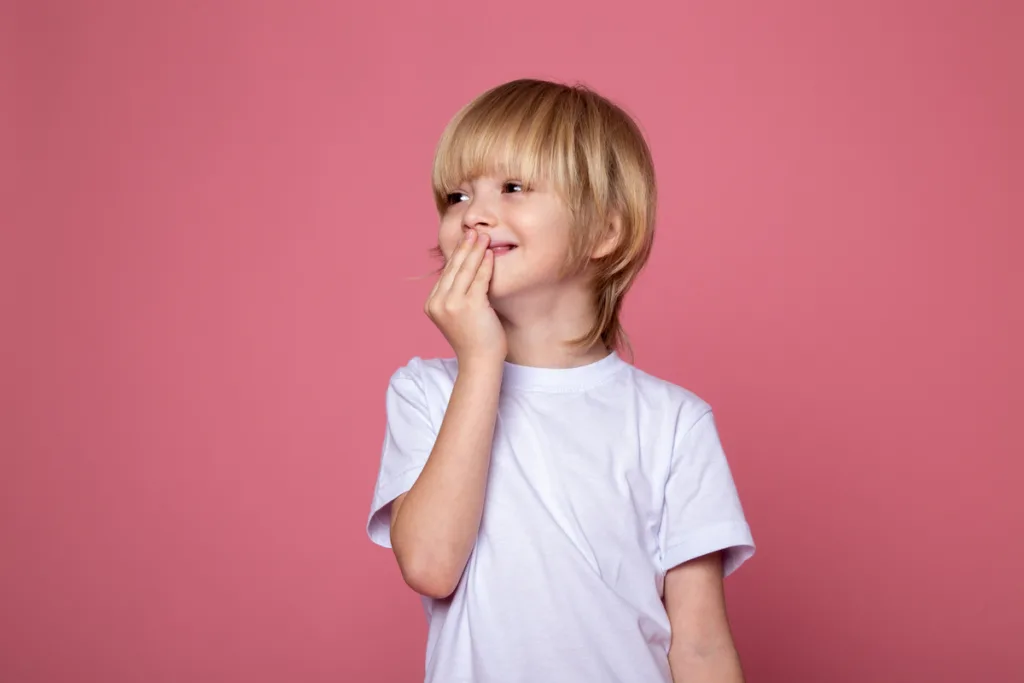 Credit: Freepik
Chronic lying in children can be a complex issue with many underlying causes. Some kids might lie for attention, especially if they feel overlooked. Others might lie out of fear of getting in trouble or to feel better about themselves. They might also pick up lying if they see adults doing it or even from TV shows or friends.
In more severe cases, constant lying might signal a mental health problem. Sometimes, younger children might not even understand that they're lying, mixing up make-believe with real life. There's no one-size-fits-all answer, and understanding why a child is lying might require help from professionals. Addressing this behavior needs a patient, tailored approach that considers the unique reasons behind each child's lying, turning it into an opportunity to build trust and understanding.
Consulting Child Psychologists or Counselors
Child counseling is a valid option for kids struggling with emotions or behavior. It helps parents understand lying child psychology, and kids understand their feelings, talk better with others, and deal with tough stuff like stress or family problems. If a child can't shake off lying to get attention, seems sad or worried, has trouble at school, or doesn't get along with friends, counseling might be a good idea. Even if it's just a feeling that something isn't right, talking to a pediatric counselor can help. It's not only for big problems but can also help kids grow stronger and happier in everyday life.
Conclusion
Why do children lie? As you can see, children lying is a common yet complex issue stemming from various underlying factors. Thankfully, parents, caregivers, and educators now have positive measures to address this behavior. We can foster an environment of trust and understanding by modeling honesty, communicating clear age-appropriate consequences for lying, encouraging open dialogue, offering thoughtful praise, and seeking professional help, like child counseling, when needed.
These strategies don't merely correct the behavior; they nurture essential life skills and emotional well-being. Addressing lying in childhood is not just about the present; it's an investment in a future filled with integrity and authentic connections.
Are you struggling with challenges on your parenting journey? Join our FREE online parenting events! Connect with experts and other parents to explore solutions for common issues like refusals, lack of motivation, screen addiction, and much more. Gain insights on lying child psychology and age-appropriate consequences for lying, share experiences, and empower your family's problem-solving. Sign up today and take a positive step toward effective parenting!
Need a quick answer to a parenting question? Our friendly AI assistant, Sophie, is here to help.
References
Curtis, D. A., & Hart, C. L. (2020). Pathological Lying: Theoretical and Empirical Support for a Diagnostic Entity. Psychiatric Research and Clinical Practice, 2(2), 62-69. https://doi.org/10.1176/appi.prcp.20190046
Engels, R. C. M. E., Finkenauer, C., and van Kooten, D. C. (2006). Lying behavior, family functioning and adjustment in early adolescence. J. Youth Adolesc. 35, 949–958. doi: 10.1007/s10964-006-9082-1
Evans, A. D., & Lee, K. (2013). Emergence of Lying in Very Young Children. Developmental psychology, 49(10), 1958. https://doi.org/10.1037/a0031409
Heyman, G. D., Hsu, A. S., Fu, G., & Lee, K. (2013). Instrumental lying by parents in the US and China. International Journal of Psychology, 48(6), 1176-1184. https://doi.org/10.1080/00207594.2012.746463
Heyman, G. D., Luu, D. H., and Lee, K. (2009). Parenting by lying. J. Moral Educ. 38, 353–369. doi: 10.1080/03057240903101630
Lee, K. (2013). Little Liars: Development of Verbal Deception in Children. Child development perspectives, 7(2), 91. https://doi.org/10.1111/cdep.12023
Silva-Diaz, M.C. (2015). Picturebooks, lies, and mindreading. Barnelitterært forskningstidsskrift, 6(1). https://doi.org/10.3402/blft.v6.26972
Talwar, V., & Lavoie, J. (2022). Lie-telling for personal gain in children with and without externalizing behavior problems. Journal of Experimental Child Psychology, 219, 105385. https://doi.org/10.1016/j.jecp.2022.105385
Talwar, V., & Lee, K. (2008). Social and Cognitive Correlates of Children's Lying Behavior. Child development, 79(4), 866. https://doi.org/10.1111/j.1467-8624.2008.01164.x
Trionfi, G., & Reese, E. (2009). A Good Story: Children With Imaginary Companions Create Richer Narratives. Child Development, 80(4), 1301-1313. https://doi.org/10.1111/j.1467-8624.2009.01333.x